At a rural town hall meeting in La Bazoche-Gouet, French presidential candidate Marine Le Pen criticised her globalist rival Emmanuel Macron for "insulting the people and France". She promised her supporters they would "never get used to terrorism" saying she would bring "Islamist fundamentalism to its knees".
Reaching out to what the Front National leader calls "forgotten France", Le Pen spoke at a rally in an open-sided barn to nearly 1,000 people in the small Eure-et-Loir town, which has a population of just 1,200, on Monday.
"The other candidates are only in big cities," she said whilst taking selfies with the eager members of the crowd. "I have been meeting in small villages and meeting French people who have never seen a candidate come to see them. It is my place, I am here among the French people who I want to defend."
"Au nom de quoi nous n'aurions pas le droit de nous protéger face au dumping social et à la concurrence déloyale ?" #BazocheGouët pic.twitter.com/HWKIRSYkQV

— Marine Le Pen (@MLP_officiel) April 3, 2017
Focusing on rural affairs in her address, Le Pen also drove home her national agenda of neutrality, secularism, and security.
"On security, it will be zero tolerance," she said. "I will never ask the French to get used to terrorism. I will bring Islamist fundamentalism to its knees!"
Promising to put 'France First', Le Pen affirmed: "With me at the head of the State, never will a stowaway be treated better than a Frenchman in his own country."
"Je ne peux plus supporter d'entendre #Macron insulter la France, dire qu'il veut vous "chasser", vous, patriotes de France !" #BazocheGouët pic.twitter.com/TpgWNtIzIk

— Marine Le Pen (@MLP_officiel) April 3, 2017
Ms. Le Pen also criticised pro-mass migration En Marche candidate Macron, who during a speech in Marseilles Saturday attacked Ms. Le Pen, her party, and by inference, her supporters.
During a rally in the crime-plagued Mediterranean port city, where 30 to 40 per cent of the population are Muslim, Macron declared: "Let us drive away from this campaign, far from the country, the party of hatred, that of contempt, of the withdrawal, and all of those who make us so ashamed."
Calling his words "contemptuous", the Front National party leader said: "I can no longer bear to hear Mr. Macron say that you, you patriots, should be driven out of your own country."
"We do not insult the people like that, Mr. Macron," said Ms. Le Pen, to which the audience applauded and chanted: "We are at home."
"How can Mr. Macron make such abject remarks towards the patriots and lovers of France that you are, that we are. He has insulted France by saying that she has committed a crime against humanity in Algeria."
Le Pen was referencing comments made by Macron in February when he implied a collective national guilt for stating that French colonisation of Algeria was a "crime against humanity" – a comment that cost him five voter intention points in the days that followed.
"Le patriotisme n'est pas une idée morte, c'est au contraire le creuset de notre avenir, de nos rêves !" #BazocheGouët pic.twitter.com/FBSvi2l4Ut

— Marine Le Pen (@MLP_officiel) April 3, 2017
"Patriotism is not a dead idea," she added, "On the contrary, it is the crucible of our future, of our dreams."
Current polling suggests likely voter intention puts Marcon just 0.5 per cent ahead of Le Pen (26 per cent/25.5 per cent) for first round voting. Le Pen, who addressed young voters in Bordeaux on Sunday, is polling equal with Macron at 24 per cent with 18-24-year-olds.The first round of the presidential election occurs on 23 April, with the run-off set to take place on 7 May.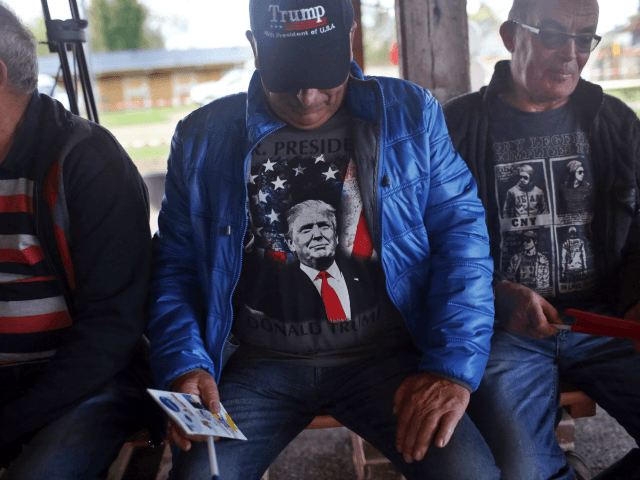 A supporter of candidate for the presidential election Marine Le Pen, wears a t-shirt with a portrait of U.S President Donald Trump during a meeting in La Bazoche Gouet, central France, Monday, April 3, 2017.
Source: www.breitbart.com