Are there any high school seniors out there looking to increase their odds of getting into a top-tier school? Just make sure your application essay has a politically-correct, left-wing message, no matter how unsophisticated, and you're in!
At least, that's what 18-year old Muslim political activist Ziad Ahmed learned when his Stanford application asked "What matters to you, and why?" He wrote "#BlackLivesMatter" 100 times – and was just as surprised as all of us that it actually worked and he got accepted.
"I was actually stunned when I opened the update and saw that I was admitted. I didn't think I would get admitted to Stanford at all, but it's quite refreshing to see that they view my unapologetic activism as an asset rather than a liability," he told Mic.com.
I submitted this answer in my @Stanford application, & yesterday, I was admitted…#BlackLivesMatter pic.twitter.com/R5YxM77bWL

— Ziad Ahmed (@ziadtheactivist) April 1, 2017
And of course, it was met with criticism from those pointing out that it's unlikely such an "essay" would be tolerated with a different message.
@ziadtheactivist @Stanford So if my son wrote America First 100x would my son get in or does he have to kiss clintons ass also?

— Jim (@royalsoda1) April 3, 2017
Of course, to Ahmed's credit, he does have an incredibly impressive resume. He's the founder and president of Redefy, an international award-winning political organization (that he founded in 2013), and was named by Business Insider as one of the world's top 15 young prodigies. He also was a member of Yale University's Young Global Scholar Program last year, and has given a TEDx talk.
He was also accepted to Princeton and Yale University.
So, good for him.
His connections to Hillary Clinton probably had nothing to do with it.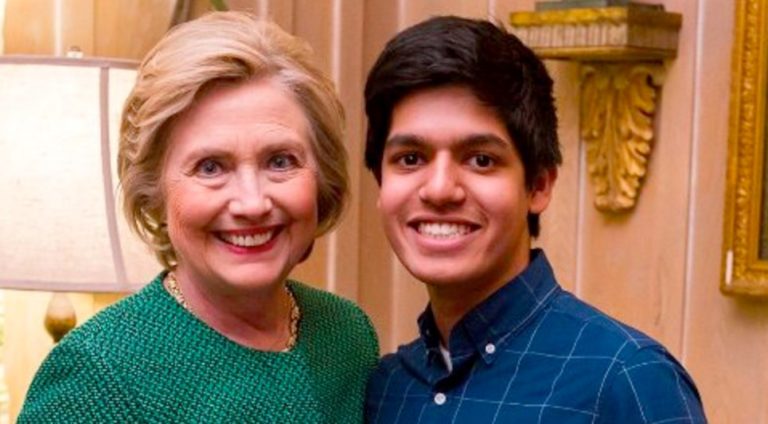 Hopefully four years at Stanford teaches him how to write an essay.
What do you think? Would your kid get into Stanford by writing America First 100 times? Share your thoughts in the comments below!
Source: thepoliticalinsider.com